Sykk Ray
From Bywpedia
Sykk Ray

Statistics
Ring names

Sykk Ray

Height
5'8
Weight
155 lbs.
Born
August 16, 1993 (age 17)
Merced, California
Billed from
The 209 (as Sykk Ray)
Resides
Merced, CA
Debut
2003
He is involved with the California-based federation, KHW 209 (Krazy Hardkore Wrestling 209) in which he co-founded and debuted in since 2003 and was a former multiple time KHW Champion and Junkyard Champion.
Backyard wrestling tenure
Bio summary
In 2003, Sykk Ray co-founded KHW 209 which he continued to wrestle in .
Since the beginning of KHW, Sykk Ray has been the top baby face in KHW defeating all heels wrestlers.
Krazy Hardkore Wrestling(2006-present)
4
In wrestling
src="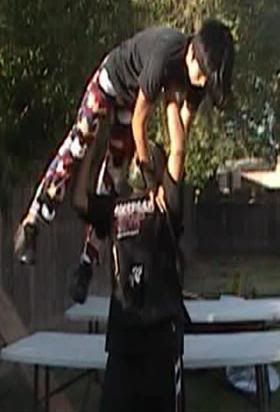 Sykk Ray performing a Military press to L.A. Ratt .
---
As Sykk Ray
Finishing and signature moves

Sykk Driver (Kneeling Unprettier), sometimes flying
Sykk Rayzors edge thru a board or table )
Obaminator (Modified Fisherman Buster )
Ray Stretch (Spinning toe hold with argentine leglock roll into far arm stretch)
Reverse Suplex to Stunner
Double underhook lift to side voodoo slam
Compton Bomb(Suplex to Rydeen Bomb)
Tombstone piledriver
Ray K O (TKO)
Flying Frog Splash
Championships and accomplishments
2 time KHW champion (as Sykk Ray)

1 time KHW Junkyard Championship (as Sykk Ray)
KHW Junkyard Champion (as Sykk Ray)
External links